About Barbara Wrigley McDevitt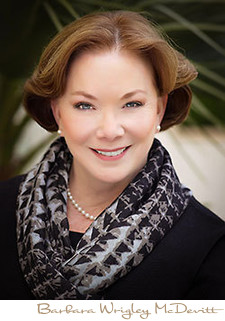 Hi, I'm Barbara Wrigley McDevitt, an award-winning, self-taught, professional photographer. For the past ten years, I've photographed everything from weddings, to portraits, to food.
My grandfather was a chef in London before immigrating to Brooklyn, New York where I grew up. He lovingly passed down all his culinary secrets to my father. I vividly remember going to Grandma and Grandpa's house for Sunday dinners, while I sat in the kitchen, mesmerized, watching my father and grandfather cook up a storm—and okay, maybe it also looked like a storm went through the kitchen when they were done, but nobody minded; the meals were amazing! I inherited my "food genes" from them, and so did my sister who's now an incredible pastry chef.
One Christmas, my parents surprised me with a Kodak Brownie camera, and just like that, a budding photographer was born. From then on, I brought my camera with me on those Sunday visits, recorded everything that my grandfather and father did and cooked in that kitchen, and asked everyone to smile and say "cheese" at least every five seconds. I also took about a billion photos of our five dogs and five cats.
Time passed. I attended college, got married to the love of my love, Austin, settled down in Minneapolis, Minnesota, went to law school and became a lawyer. My enthusiasm for photography never waned, and every chance I got I photographed anything and everything I could focus my camera on—people, buildings, restaurants, food; you name it and I captured it.
One day, as I was trying not to slip into a catatonic state behind my desk, I had an epiphany—I'd follow my passion and start my own photography business! And as they say, "the rest is history." I'm now blessed to be doing something that seems far more like play than work.
These days, when I'm not snapping images of food in my home studio or at a restaurant, shooting a cookbook, trying out new recipes, or ideas about lighting and styling—I'm online shopping (I'm a true shopaholic), devouring mystery novels at an alarming rate, and watching thrillers on TV. I'm also an avid collector (okay, hoarder) of food photography props. Recently, while my husband was eyeing my ever growing, staggering assortment of props, he suggested I didn't need a studio, I needed a warehouse. I'm working on that—the warehouse, I mean.
Along with hoping to own a warehouse one day, I'm a proud member of the International Association of Culinary Professionals and Nikon Professional Services.
Awards
2015 WPPI Photojournalism - Silver
2017 WPPI 16X20 Competition - Silver
2018 Finalist IACP Food Photography Awards - Best Editorial Food Photograph
Images for Licensing
I am an Adobe Stock Premium Contributor and any image you see on my website, and more, may be licensed from Adobe. See the Premium Collection on Adobe. You may also purchase any of the images you see either digitally or as a fine art print. Custom images may also be commissioned for commercial use. Please contact me for additional information.
Background Surfaces for Food Photography
I have an extensive collection of backgrounds available. If you need a custom solution, I can even create a "proprietary" background exclusive to you and only used for your custom project. Please contact me for details.
Props for Food Photography
My props range from vintage silverware and other items, vintage and contemporary place settings, pewter dishes, vintage cookware, pottery, Staub cookware, Le Crueset cookware, Falk USA cookware, vintage gratin pans, Lodge cookware, Mauviel cookware and virtually every color under the sky for table napkins. I also offer "food as props." I can accommodate virtually any request you have. Please contact me for more information.
Food Styling for Food Photography
Having worked in the industry for more years than I can count, I have gained significant knowledge about food styling. I am amenable to working with the food stylist of your choice. Alternatively, if your budget does not allow for an additional person on set, I would be pleased to also offer food styling and propping services.
My Process
If you decide you would like to work with me I will schedule an in-person, telephonic, Skype or FaceTime "at no cost" consultation during which we discuss the scope of the project, your vision, your budget, your needs and your desired end product including usage of the images produced from the project. I will then present my ideas for the project to you in an electronic, or if desired print, format for easy viewing. The presentation will include an itemized budget, based on my understanding of your requirements, which may be revised before the start of the project.
If you have a food photography or restaurant branding need (including chef's portraits), look no further. Just call!
© 2018 Barbara Wrigley McDevitt ~ Minneapolis, Minnesota based Freelance Food Photographer