About Barbara Wrigley McDevitt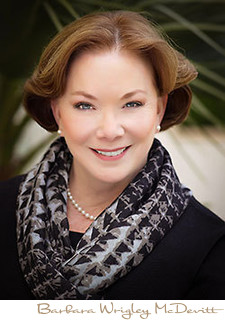 My name is Barbara Wrigley McDevitt and I have been a professional photographer for the past ten years. I have photographed everything from weddings to portraits to headshots and food.
I grew up in Brooklyn, New York before moving to Minneapolis, Minnesota after I married the love of my life, Austin. My grandfather was a chef who immigrated from London to Brooklyn. He taught my father everything he knew about cooking food, styling food and creating recipes. I remember every week we would visit "grandma and grandpa's" house for Sunday dinner where my father and grandfather would banter away noisily in the kitchen preparing the meals. I would sit there and watch them, silently absorbing all the details of what they were doing. I always say I inherited "food genes" from the best of them. (So too did my sister who is a pastry chef.)
One Christmas my parents gave me a Kodak Brownie camera and a budding photographer was born. Now on Sunday visits I could record everything my father and grandfather were doing in the kitchen. I also took plenty of photos of our five dogs and five cats. Time passed and I attended college and got a job in the corporate world. But I never stopped photographing anything I could - people, buildings, restaurants, and food - dishes, drinks, desserts - you name it. One day while I was toiling away at my corporate job, I had an epiphany! I wasn't very happy and certainly was not following my dreams. So I started my photography business and like they say "the rest is history." I now have the best job in the world - one that I love waking up to every single day.
When I'm not photographing food in my home studio or at a restaurant, trying out new recipes or ideas for lighting and styling, you can find me shopping on-line for just about anything (a big passion), reading the latest mystery novel, or watching thrillers on TV. I am an avid collector and hoarder of food photography props and my husband tells me I don't need a studio, I need a warehouse. I'm working on that too - the warehouse, I mean.
I am a proud member of Professional Photographers of America, the International Association of Culinary Professionals, and Nikon Professional Services where I have met the most interesting and sharing people.
Images for Licensing
Any image you see on my website may be licensed as stock for a royalty for a limited period of time depending on usage. You may also purchase any of the images you see either digitally or in a fine art print. Custom images may also be commissioned for commercial use. Please contact me for additional information.
Background Surfaces for Food Photography
I have an extensive collection of backgrounds available. If you need a custom solution, I can even create a "proprietary" background exclusive to you and only used for your custom project. Please contact me for details.
Props for Food Photography
My props range from vintage silverware and other items, vintage and contemporary place settings, pewter dishes, vintage cookware, Staub cookware, Le Crueset cookware, Falk USA cookware, vintage gratin pans, Lodge cookware, Mauviel cookware and virtually every color under the sky for table napkins. I also offer "food as props." I can accommodate virtually any request you have. Please contact me for more information.
Food Styling for Food Photography
Having worked in the industry for more years than I can count, I have gained significant knowledge about food styling. I am amenable to working with the food stylist of your choice. Alternatively, if your budget does not allow for an additional person on set, I would be pleased to also offer food styling and propping services.
My Process
If you decide you would like to work with me I will schedule an in-person, telephonic, Skype or FaceTime "at no cost" consultation during which we discuss the scope of the project, your vision, your budget, your needs and your desired end product including usage of the images produced from the project. I will then present my ideas for the project to you in an electronic, or if desired print, format for easy viewing. The presentation will include an itemized budget, based on my understanding of your requirements, which may be revised before the start of the project.
If you have a food photography or restaurant branding need (including chef's portraits), look no further. Just call!
© 2017 Barbara Wrigley McDevitt ~ Minneapolis, Minnesota based Freelance Food Photographer